Game, Set, Match
Tennis in Mission Viejo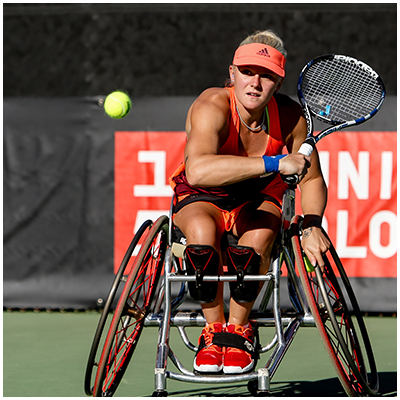 If you play tennis, you'll have a ball in Mission Viejo. That's because the city lives, breathes and plays the game year-round on more than 50 outdoor tennis courts in the city.
Tennis players of every skill level will benefit from:
Junior and adult tennis clinics.
Regular league play for all ages.
Private lessons and coaching, including USTA-certified instruction available.
Facilities to support amateur and professional tournaments as well as fundraising events, socials, and exhibitions.
Mission Viejo's Major Tennis Events
UNIQLO Wheelchair Tennis Masters
Host of the high school division of the Michael Chang Tennis Classic
The Marguerite Girls High School Fall Classic – a USTA singles and doubles event showcasing
the nation's top young 18 and under girls
SNAP (Special Needs Adaptive Programs) initiatives:

ACEing Autism Free Saturday Tennis Clinics to Teach Children with Autism
Free Sunday Wheelchair and Adaptive Tennis Clinics
USTA Wheelchair and Adaptive Tennis Coaches Seminar and Certification Clinic

ACEing Autism "Play It For A Purpose" Charity Fundraiser
Konrad Reuland Charity Tennis Tournament
"Top Public facility of the Year" by the Professional Tennis Registry
Tennis Professionals
Ryan Hill

Ryan Hill is the Head Tennis Professional for the City of Mission Viejo. He is a certified Professional with PTR and an Elite Professional for the USPTA. His efforts were instrumental in the Marguerite Tennis Pavilion being named Public Facility of the Year in 2018. Ryan is a guest author for tennis industry magazines and also served as the So Cal Representative for PTR. He holds multiple specialized certifications for junior and adult developmental pathways, group and private programming, as well as wheelchair tennis, and a non-profit grass roots program for tennis players with autism.

Senem Aktuccar

Associate Tennis Pro Senem Aktuccar, USPTA Certified. has been teaching tennis for many years all around the world. She holds several Turkish championship titles in singles and played on Her country's National Team for 8 years including competing in Federation Cup matches representing Turkey. She is a former NCAA Division I tennis player having played at the University of Texas, at Arlington.
On first coming to Mission Viejo, I was in an unknown land and focused only on my tennis. Standing in a venue where I received a family welcome, I knew instantly that this facility was an elite tennis arena. The California climate and the atmosphere at the Marguerite Tennis Pavilion are strengths for players. I would love to see a new Masters there!"
Stephane Houdet, ITF Doubles Champion & Gold Medalist