Game, Set, Match
Pickleball in Mission Viejo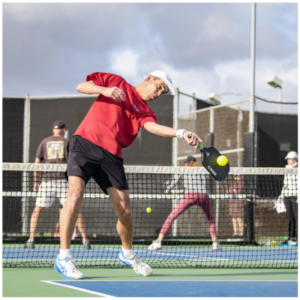 If you play pickleball, you'll drink to your hearts content as Felipe provides year-round access to 14 outdoor lighted private facility courts all with tournament championship style tensioned nets.
Pickleball players of every skill level will benefit from:
Junior and adult pickleball clinics
Regular league play for all ages
Private lessons and coaching, including ITTPA and PPR certified staff
Player pairing programs by skill level
Facilities to support amateur and professional tournaments with certified referees on staff
Mission Viejo Major Pickleball Events and Honors
2018 Innovative Sports Award – Southern California Municipal Athletic Federation
Konrad Reuland Charity Pickleball Tournament
2022 SWISH Sports Tournament
2022 Filming Location: Real Housewives of Orange County Season 17: Episode 1
2023 Filming Location: Nugenix Sports Commercial with Baseball Hall of Fame inductee, Frank Thomas
Pickleball Professionals
Jamil Atcha

Jamil Atcha has more than 30 years of tennis coaching and began pickleball teaching in 2020. Jamil played high level tennis and was a top ranked junior player, state doubles champion at Saddleback Junior College and player for the UC Berkeley tennis team. He has been playing pickleball since 2019 and became a top Senior Pro Player with a singles ranking of #10 in 2021 and won his first Senior Pro Gold Medal in mixed doubles in December 2022.

Somchai Moy

Somchai (Sammy) Moy is a certified pickleball instructor and coach with teaching certifications from the International Pickleball Teaching Professional Association (IPTPA) and the Pickleball Professional Registry (PPR). He has competed at numerous professional and amateur tournaments across the US earning a variety of medals, most recently a silver medal in mixed doubles at the 2022 Association of Pickleball Professionals (APP) tournament in New York City.
In addition, Sammy is a USA Pickleball Certified Referee and Referee Training Coordinator (RTC) for the West Region (CA, HI and GU). He has been officiating at multiple professional and amateur tournaments throughout the US. Sammy transitioned from tennis to pickleball in 2018. Now, he is energetic and passionate about anything pickleball both on and off the court.

Marc Freije

Coach Marc is a certified International Pickleball Teaching Professional and a PPR Certified Coach. Marc studied under pickleball's elite player, Simone Jardim for two years where he honed his training techniques from the number one ranked female pickleball player in the country. He offers private lessons, group lessons, skills and drills clinics, youth programs and tournament preparation.

Mel Seagal

Mel Seagal is a International Pickleball Teaching Professional Association (IPTPA) member, and a USAPA member. He enjoys teaching different levels of pickleball, and became an instructor after several of his clients begged him to teach them pickleball after working as a manufacture representative for different pickleball companies.
On first coming to Mission Viejo, I was in an unknown land and focused only on my tennis. Standing in a venue where I received a family welcome, I knew instantly that this facility was an elite tennis arena. The California climate and the atmosphere at the Marguerite Tennis Pavilion are strengths for players. I would love to see a new Masters there!"
Stephane Houdet, ITF Doubles Champion & Gold Medalist