Goals Redefined
Soccer in Mission Viejo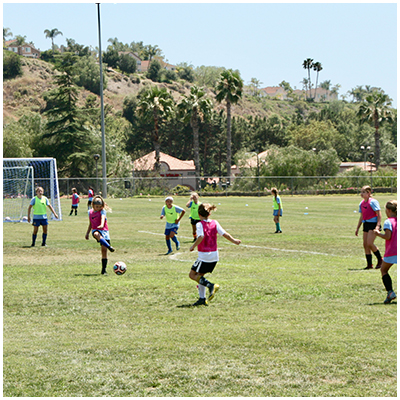 When it comes to the best field position for soccer teams, Mission Viejo has a clearcut edge. Whether the goal is finding the right place for off-season conditioning, or a national youth tournament, teams and players agree there's no better experience.
Soccer players/teams will appreciate:
World Cup Soccer and USA soccer training and competition
14 fields within a 5-mile radius which can all be marked specifically for soccer.
Many fields have lights, making them available for evening practice sessions and games.
Experienced competition and organizational support staff at the city and facility level.
Ideal outdoor training conditions; average July temperatures of 85 degrees with virtually no rain.
Find out more
Mission Viejo's Major Soccer Events
Julie Foudy Soccer camp held annually
7-acre park
2 lighted soccer/football fields
Ability to host large scale tournaments with easy access to 6 adjacent fields.
Ability to utilize overlays to create multiple fields.
Dedicated restrooms and outdoor patio for private events.
Potential for outdoor concerts and events
Parking for 240 cars
Accessible to Orange County's best walking trails
Adjacent to downtown shops and restaurants
Find out more about our events
The World Cup Soccer facility in Mission Viejo is a dream spot for our Julie Foudy Soccer Camps, which have been held there for over two decades now! It has everything you need in a camp location, and the City of Mission Viejo staff–from the field maintenance crew to operational staff–take such good care of us."
Julie Foudy, two-time FIFA Women's World Cup champion and Olympic gold medalist